Advertising for A Cure
The Gem Diner and The Baldwin Fund are offering a unique advertising opportunity!
About The Gem Diner
Unique Benefits of Advertising at The Gem Diner
The Gem Diner serves thousands of people from Central New York each week. Diners come in for business lunches, get-togethers with friends, family dinners, and more. The social nature of these meetings is a naturally occurring scenario for word-of-mouth marketing. WOM is still a crucial marketing tool for any brand or business because the source is someone they know and trust. In addition, advertising at The Gem Diner doubles as a philanthropic endeavor. Proceeds will benefit The Baldwin Fund, which gives yearly breast cancer research grants to Upstate Medical University. Advertise at The Gem and your ad will be a conversation starter – you'll be the talk of the table!
Brand Advertising at The Gem Diner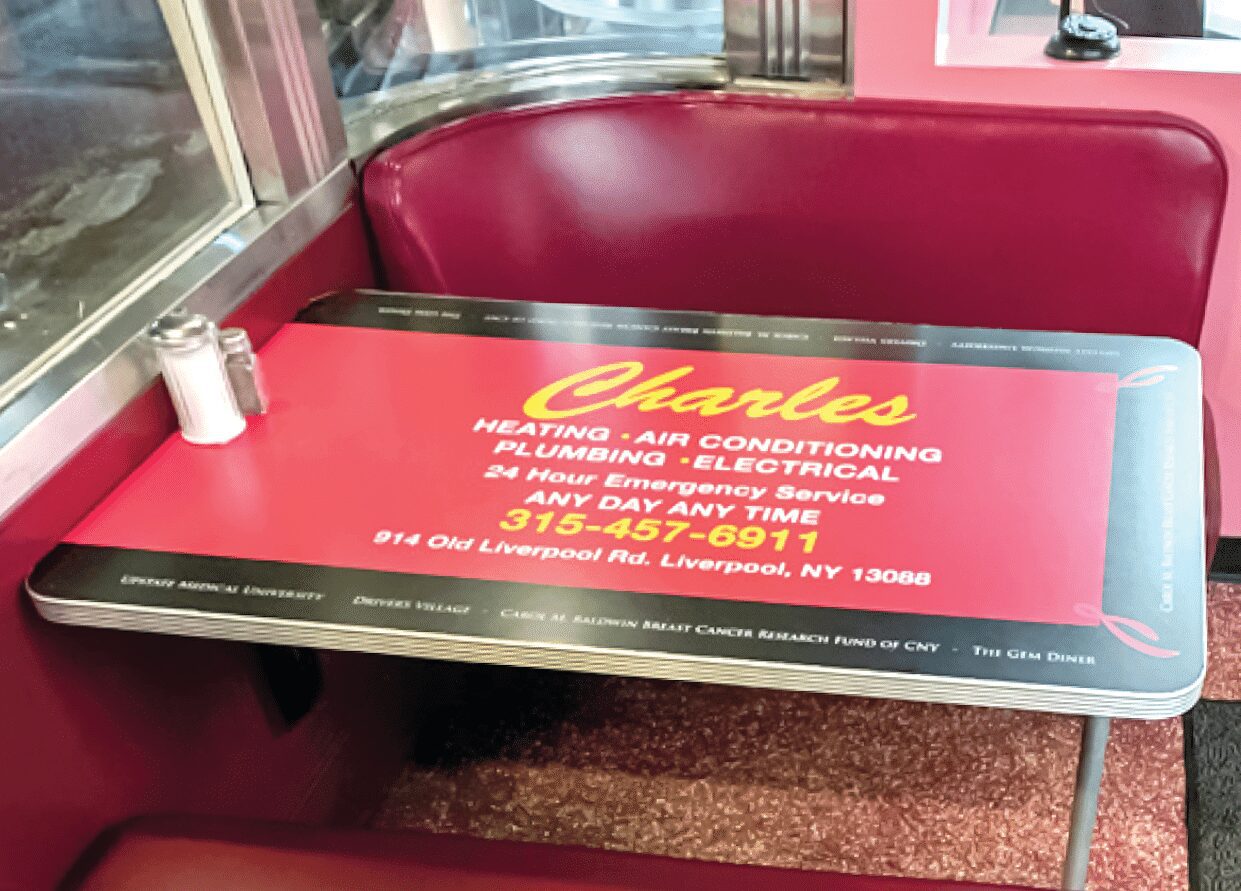 Help Us Build a Wall of Love, Brick by Brick!
Personalize a brick with a special wish or message. Each brick includes 50 characters and ONE icon, logo, or emblem.
2022 Advertising Rates
Purchase any 3 Ad locations for 12 months, receive 10% OFF
| AD LOCATION | SIZE | 4 MONTHS | 8 MONTHS | 12 MONTHS |
| --- | --- | --- | --- | --- |
| Single Booth Table | 30″W by 48″L | $1000 | $2000 | $3000 |
| Single Square Table | 36″W by 36″L | $1000 | $2000 | $3000 |
| Single Round Table | 44″W by 44″L | $1000 | $2000 | $3000 |
| Single Square Patio Table | 36″W by 36″L | $500 | $1000 | $1500 |
| The Left Counter | 28″W by 183″L | $500 | $1000 | $1500 |
| The Right Counter | 28″W by 175″L | $500 | $1000 | $1500 |
| Single Counter Stool | – | $150 | $300 | $450 |
| Recognition Brick | 8″W by 4″L | – | – | $50 |